Page one two three four five six seven eight nine ten eleven twelve thirteen forteen fifteen
sixteen seventeen eighteen ninteen twenty twentyone twentytwo twentythree
- - - Nature provides both godhood in the form of Varuna - hood and demonhood in the form of Vritra. Varuna form is assistive, while the Vritra form creates obstacles. Under the influence of Vritra, the doer and knower sides of a person quarrel with each other, just like the war of Kauravas and Pandavas. The symbolism of these two are two tigers, which can be subdued by the soul(the third person) only when he bears the brilliance of sun on his head, as has been shown in one seal. The reason for this is that sun's lusture is symbolic of the omnisciency and - - of God. Only by acquiring this lustre soul can make Vritra her slave or associate. This thinking has been expressed in a seal where a rheno and a tiger are standing quiet and a third person is offering some drink in the drinking vessel. This third person is the Prajaapati or fire of Braahmanic texts who enters the tree in the form of a horse(praana or Indra) and due to which the tree is called Ashwattha/peepal. All gods are embedded in this horse form of Prajaapati who has entered the body tree, and fire in this form is said to carry oblation to all gods. All the gods in the form of senses get power from this .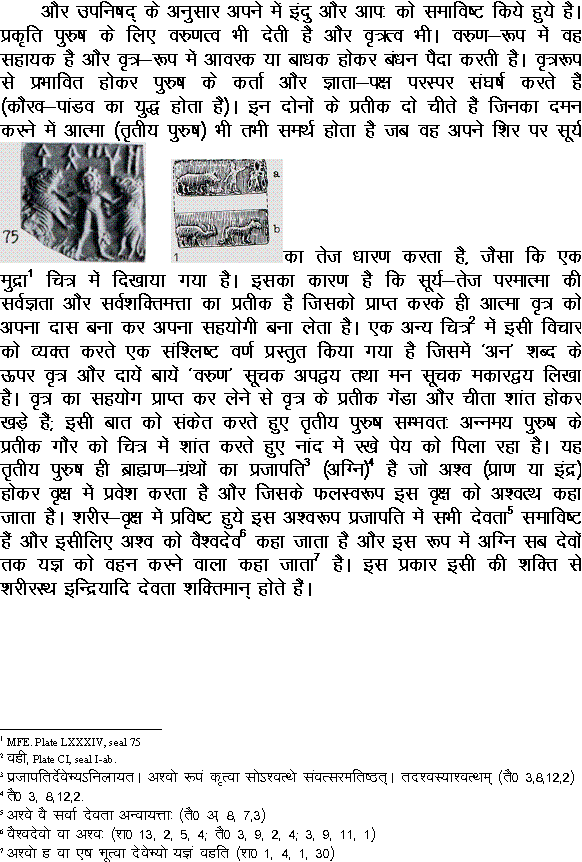 The power of Prajaapati, which empowers all the gods inside Aswattha tree(body), is called cow. Prajaapati creates her with praanas. This cow is an uninterrupted source of Soma, therefore the source of power for all gods. This power in the form of cow is the thunderbolt of Indra, which is said to have been received from the loka of sun and which enters in the form of a cow in every tree/body and creates fear for those birds which try to eat the man/soul. In Indus seals also, there is such an animal which adjoins all the gods insid the body, provides them power and destroys their enemies. One seal depicts on one side of it a heap of tigers killed by him and the other side depicts 4 animals which are in a state of fear due to him. In another seal , this animal has been depicted as joining 6 other animals with it's horns, legs and tail. The shape of this animal is like a huge alligator whose horns are like those of a huge bull. This alligator of Indus valley reminds one of the alligator of Rigveda which is also a thunderbolt of Indra.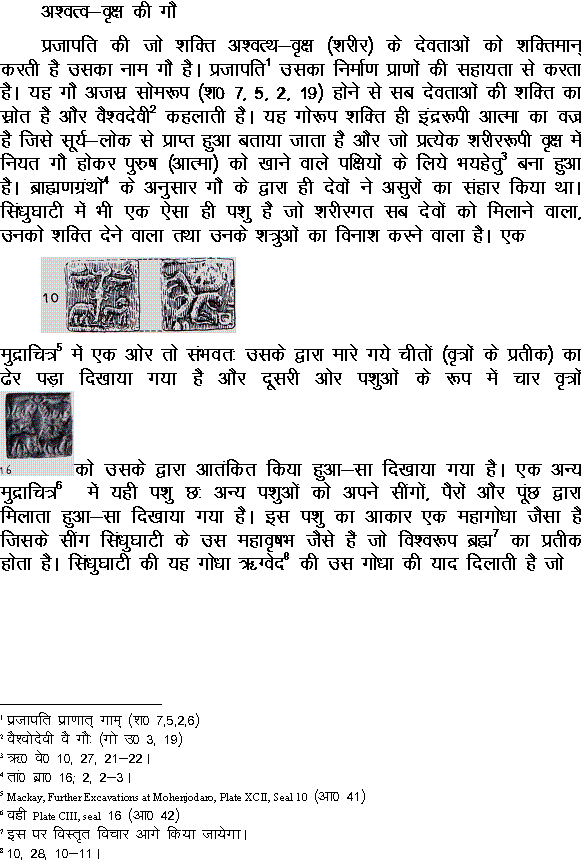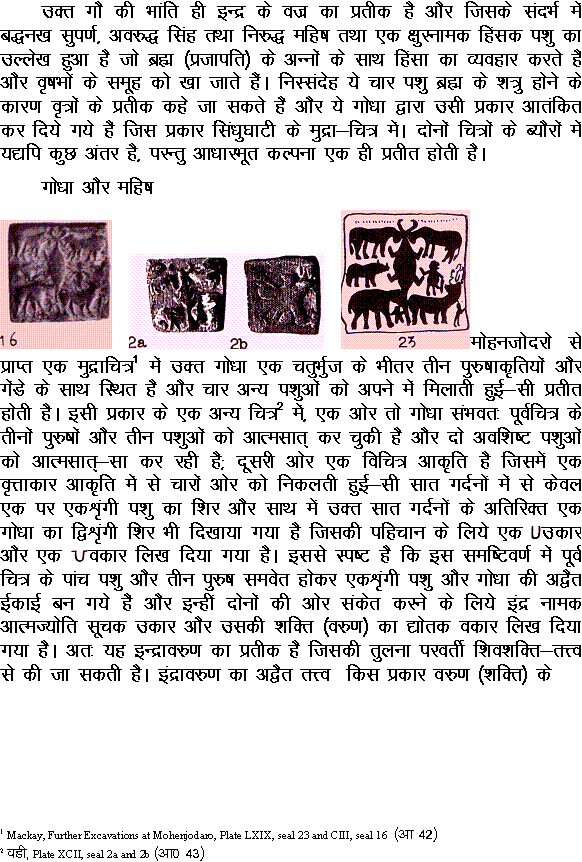 The powers of Varuna and Vritra are interchangeable. The assisting power of Varuna can become destructive power of Vritra. This is indicated by one seal. One side of this seal bears a symbol symbolizing Vritra. The other side has a cord passing through different forms of letter a. This cord passes fully through some a's an partially through other. This seal is full of flying birds who have eaten one out of three persons and have injured the other two. This reminds one of the man - eating birds of Rigveda who run away on hearing the sound of 'regulated cow' in the body - tree. Here the word regulated is meaningful, because one form of power of soul is unregulated also.
The power - cord of Varuna, which normally regulates, when it finds itself unable to do so, transforms into a cord of sin and the man bound by this cord become a target of Vritra. This has been depicted in an Indus seal where death has been shown in the form of a buffalo bull which subjugates/overcomes two persons who are lying on ground and at least three are hanging in the sky. On the other hand, there is a seal where this buffalo, symbolic of death, has become a pet animal. A drinking vessel is kept before it and after drinking, it shows satisfaction by raising it's head. The inscriptions on this figure indicate that now soul has made this buffalo of death her slave and now it is conquerer of death.
In order to conquer or kill this buffalo - bull, it is necessary that this bull ceases from destruction, which is clear from the name of a buffalo in a seal.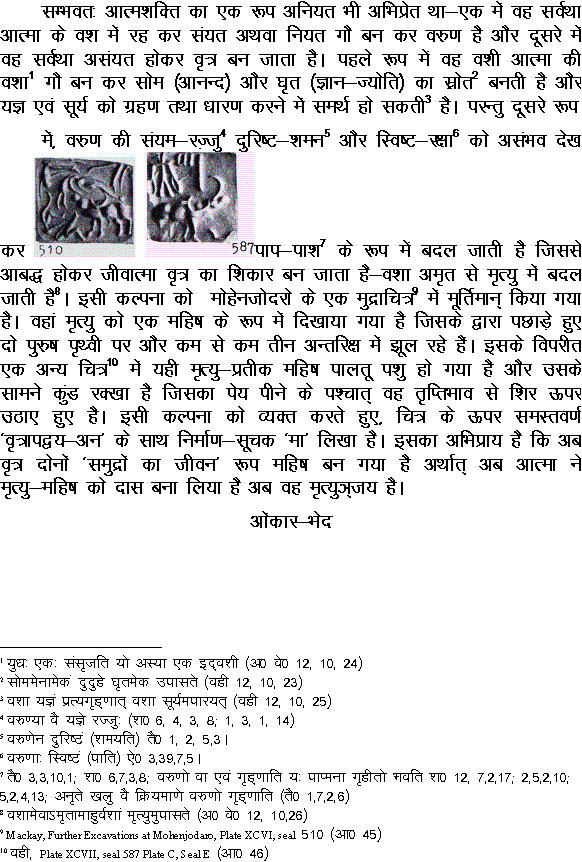 Page one two three four five six seven eight nine ten eleven twelve thirteen forteen fifteen
sixteen seventeen eighteen ninteen twenty twentyone twentytwo twentythree