Page one two three four five six seven eight nine ten eleven twelve thirteen forteen fifteen
sixteen seventeen eighteen ninteen twenty twentyone twentytwo twentythree
There is a seal of Indus valley

where a man is situated in a particular yogic posture and holding staff type letter a in his hand. In front of him is a lady holding letter pa with her both hands. Here letter a may be called the formless god who comes in form with the cooperation of power. Letter pa is the first letter of the power(paraa) of that letter a, or the female side. Some wrought seals and also stone seals have been found having letter pa. The other side of some of these figures bears letter na. If pa is combined with a, then it forms the word apa, meaning water. If na is combined with a, then it forms words meaning life forces. It seems that Indus script forms the symbol of sacrifice by combining two ap with one ana. Also, seals have been found where one side of letter pa bears letter ja while the other side bears letter na. This reminds one of the derivation of word Yajna from root Jana.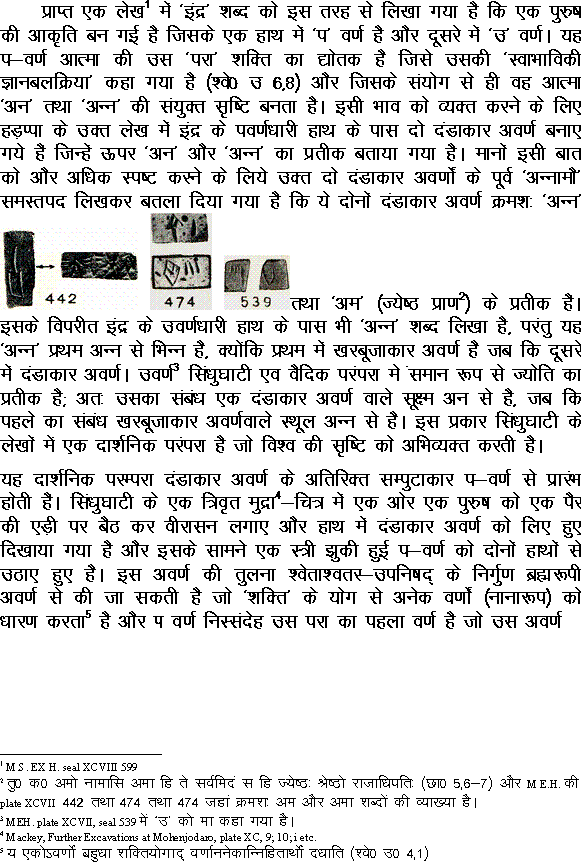 There exists a letter u behind the woman in the seal mentioned above. Moreover, a man is also standing on the side.Undoubtedly, this u is the half part of pa, which, when comes in contact with a, bifurcates into two u's. There is also a third form of u - a combination of these two.

. This form of u is sometimes depicted as situated above staff - type letter a and accompanied with other two u's.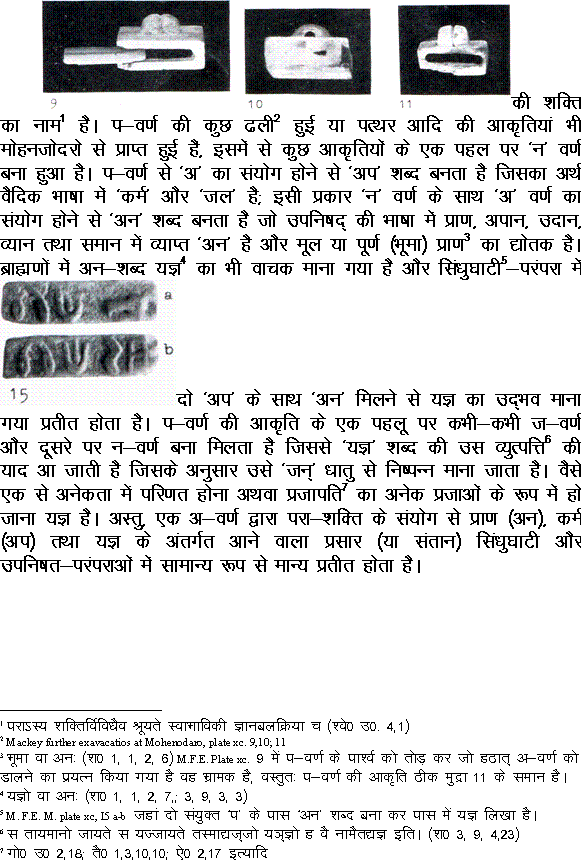 It seems that in Indus script, the super power of formless god( letter a) has been called Umaa. That is why one seal bears Umaa along with Indra and a man is presenting letter u to a tree. No doubt, this tree is symbolic of human body. One seal depicts a tree whose stump is like staff - type letter a. Each leave of this tree has been shaped in such a way that word 'an' is formed. On this tree also, a person in a particular yogic posture is presenting a letter u to a tiger.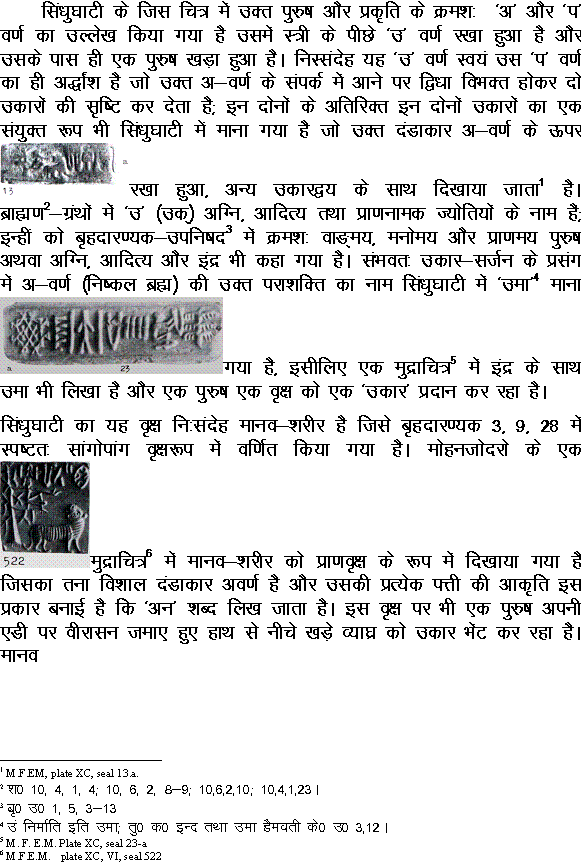 There is a seal of a tree bearing inscription Indra and Uma. Two persons beside this tree are bent on fighting. The tree twigs which they are holding as weapons have five leaves, which may be symbolic of five senses of action and five senses of knowledge. The lady mediating between these two persons may be goddess Umaa.
And Indra situated on the tree is preventing tiger from reaching to a figure which is of the shape of 'vana'. This vana can be compared with the vana of upanishadic text where vana symbolizes the fouth brahma by whose power the other three get the power. Only Indra knows him with the help of Umaa.
Letter v in Indus script symbolizes lord Varuna. Association of this v with an and ap is desirable. The tiger found in the seal is the enemy of Varuna named Vana. V ritra is the demonic power who is said to cover waters in vedic literature. On the other hand, there is found a seal where there is an animal who has plucked two a - letter type leaves of vana. One of the leaves is in it's mouth and the other is lying on the ground. 'Vritra Vashat' is mentioned above this figure. This means that this is a Vritra which has now got converted into Vashat. As will be explained below, Vashat means that six gods who were by now in possession of Vritra, now have come under the possession of lord Varuna and are therefore called Vashat. There is another seal which presents this concept in another form. Here, there are faded shapes of a pair of man and a woman. Below them are a tiger and a serpent. Between these two Vritras, there are situated two separate u's, one staff along with a combined u and a separate staff type a. The other side of the seal bears the figures of three animals which appear to be rhino, elephant and horse respectively.
In both of these figures, the three shapes having u's are undoubtedly the same three persons who have been called voice - type, mind - type and prana - type and who have originated from a - letter type fourth Brahman. The pair of man and woman appear to be the combined form of Vana or Varuna which has been called above as the combined form of an and apa. All the animals here appear to be non-violent, being dominated by Varuna, not by Vritra, eating a - letter type leaves.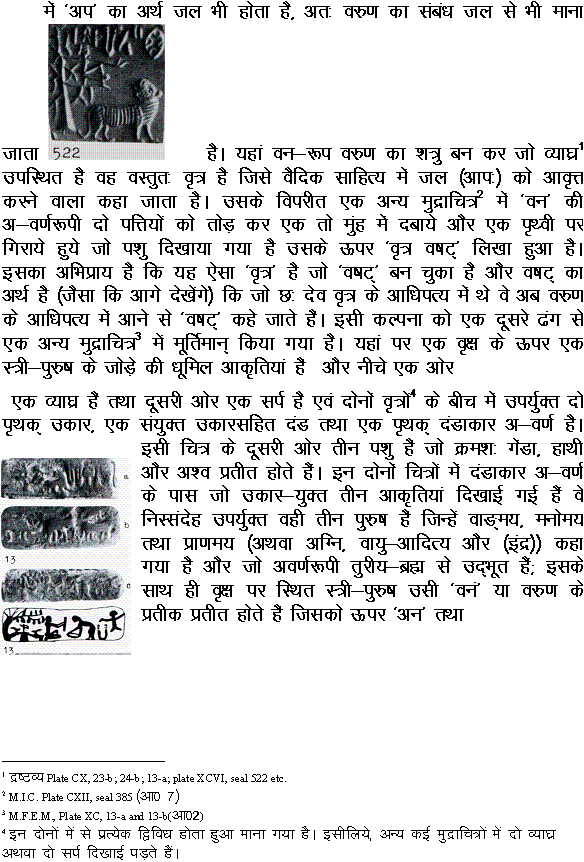 Page one two three four five six seven eight nine ten eleven twelve thirteen forteen fifteen
sixteen seventeen eighteen ninteen twenty twentyone twentytwo twentythree